Abdominal and leg vessels
Angiology
Vascular diagnostics address risk patients that, due to a personal or familiar disposition (e.g. smoking, diabetes, high blood pressure, high cholesterol), may have to deal with arterial diseases in the future or are already suffering from such (e.g. stroke, cardiac infarction, intermittent claudication). Diseases of the venous system (e.g. varicose veins, thrombosis) are examined as well.
The leg arteries and veins are screened with a special color duplex transducer. This procedure is similar to the carotis screening. The arterial walls are examined to find stenoses (plaques) and, if found, the blood flow velocity is measured (color duplex) to define the stenosis degree. The veins are examined to find possible clots (thromboses), but the examination can also be used to determine the functionality of the venous valves.
​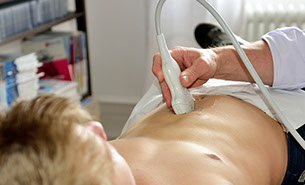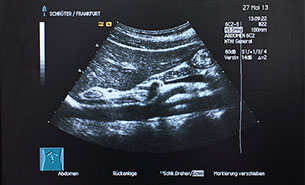 All of these examinations are done using state-o-the-art ultrasound diagnostics (color duplex sonography).
Depending on the issue in question, the screening takes about 15-30 minutes and there is no need for any preparation.
Read more in our newsletters on "Arteriosclerosis / Carotis artery" and "Ultrasonic scans".