Abdominal organs
Body plethysmography
Sonography scans of the abdominal organs are the most common sonography examinations. This might be why they are often considered to be "easy" and quickly done. This, however, is not generally true as the many different organs (liver, gall bladder, bile ducts, pancreas, left and right kidney, suprarenal glands, spleen, lymph nodes, large vessels with junctions, parts of the colon and the small intestine, bladder, ovaries, uterus, prostate gland) can, in fact, usually be scanned through the abdominal wall. To obtain appropriate results from a careful examination, though, it takes time and the specialized expertise of the physician doing the scan.
​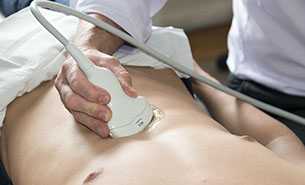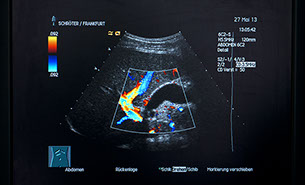 Patients are examined while lying on their back. The scan takes about 10-30 minutes. In particular cases or for patients with certain anatomic conditions (e.g. overweight), it might be advisable to do the examination with an empty stomach in the morning.
The elastography of the liver is a new and additional procedure to assess the degree of frequent liver diseases (fatty liver, fibrosis).
Read more in our newsletters on "Ultrasonic scans" and "Elastography".