Arrange your appointment by phone
Mon-Fri 9:00 a.m. to 1:00 p.m. and
Mon, Tue, Thu 3:00 p.m to 6:00 p.m.
+49 (0)69 664 26 65-0 · info@pkd-am-staedel.de
Outside consultation hours
Emergency medical service +49 116 117
Praxis Schröter · www.praxisschroeter.com
Praxisklinik für Diagnostik
Medizinisches Versorgungszentrum
Private and all statutory insurance patients
Städelstraße 10
60596 Frankfurt am Main
Diabetes + hormonal disturbances
Endocrinology
Endocrinology observes diabetes and the diseases of all other hormone producing organs (e.g. thyroid gland, hypophysis, suprarenal glands, gonads). This also includes changes in the bone metabolism (e.g. osteoporosis) as well as fertility disorders.
​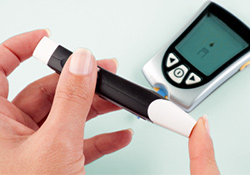 Read more in our newsletter on "Diabetes mellitus"
Lung function tests
Long-term screenings
Endocrinology + diabetes consulting hours
Bone density (DXA scans)
Laboratory medicine