Long-term screenings
Some diseases need to be monitored over a longer period of time, usually 24 hours, to be able to determine their degree or to observe their progression under treatment.
24-hour blood pressure screening
In case of suspected arterial hypertension, a long-term screening can help find evidence of such. Sometimes a higher blood pressure is measured at the doctor's; at home, though, everything seems to be in normal ranges when checking the blood pressure (the often so-called "white coat effect"). In a 24-hour blood pressure screening, the RR is checked every 30 minutes during the day, at nighttime every 60 minutes. This enables to observe the patient's blood pressure under real everyday life conditions in much more detail.
​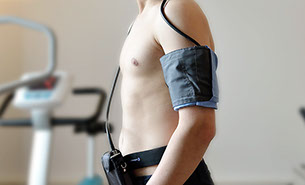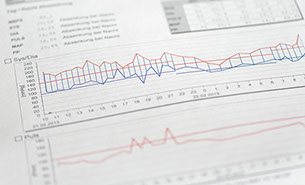 In addition, the continued screening allows a better adjustment of already existing medication, as it measures the moments that are crucial for adjusting it (e.g. the morning hours before waking up) during which you as a patient would otherwise not be able to take your blood pressure. The difference between the average levels during the day and night are also of particular importance.
24-hour ECG
A long-term ECG helps identify arrhythmia. Occasional "skips" of the heart could be harmless; they might, however, indicate dangerous arrhythmia. Even some medication can have a potentially negative impact on the heartbeat without making the patient notice it. A long-term screening can therefore reveal potential side effects.
​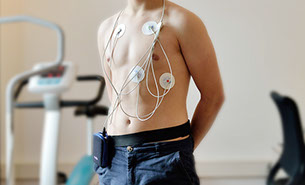 The screening (in addition to other tests) is indispensable to identify the cause of sudden fainting or acute dizziness. When the patient takes the device back to PKD, a computer-aided assessment of every single heart beat – more than 100,000 per day – will provide results and their assessment the same day.