Thyroid gland
The thyroid gland has many responsibilities in our body. Our metabolism, cardio-vascular system, growth and psyche are influenced by thyroid hormones. Diseases of the thyroid gland are frequent.
The organ can be displayed by means of sonography scans in the case of practically any patient. Using modern technology (high resolution B-mode scans, color duplex, power duplex), the scan only takes about 5-15 minutes; it has absolutely no side effects and needs no preparation. It is indispensable to first assess pathological changes of the thyroid gland.
​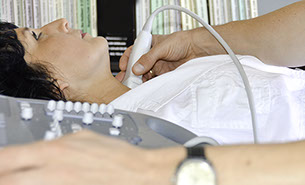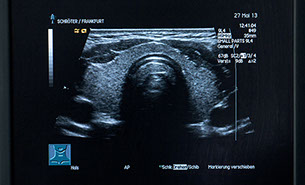 Several aspects are examined: the position and form, the volume in particular, the "texture" and the blood circulation in the tissue. Focal changes are found very often (e.g. cysts or lumps). A sonography scan can be essential to differentiate between harmless and suspicious lumps (possibly malignant ones that need further clarification). A digital archive of the results allows a direct comparison with findings from earlier examinations later on, e.g. to assess the growth of a lump.
Elastography is a new procedure to enhance diagnostic assessments of thyroid gland lumps.
Read more in our newsletters on "Underactive thyroid gland", "Ultrasonic scans" and "Elastography".